The MT2030 Solutions Project
"If we can build capacity in every mountain community, we can build a movement against climate change"
Overview
The Mountain Towns 2030 Solutions Project (MTSP) is a cohort-based program that provides targeted leadership training and real-world expertise to equip every participant with an impactful pathway to carbon neutrality.
The Solutions Project Is Designed To:
Facilitate collaboration to help the participating communities overcome their shared challenges and accelerate their climate action planning
Connect communities with actionable tools, data, and valuable resources to achieve their ambitious climate goals quicker and more efficiently. Create a toolbox of peer actions, projects, and progress that will make an immediate impact.
Build capacity in communities that need additional resources
Take the discussion from the intangible to meaningful impact and benefits
Build working relationships and establish a network for mountain community colleagues to draw from
Facilitate continued collaboration & networking outside of the cohorts
Program Framework:
Participating communities join a series of six monthly collaborative work sessions where you will work directly with peers and experts to create an actionable plan that illuminates a pathway for climate action.
Each convening gives communities the opportunity to collaborate with colleagues, discuss ideas and best practices, and hear from topical experts, gaining a deeper knowledge of specific climate planning challenges and solutions.
The conversation will be supported by an online community platform enabling participants to connect and continue conversations with colleagues as-needed.
MT2030 Deliverables
Provide facilitation and structured information for each module
Create an impactful plan for each participating organization
Curate and moderate an online forum to continually share ideas, best practices and collaborate with colleagues. Additional events will be hosted here as well.
Support participants throughout their climate journey. Example: giving a local presentation, helping in collecting and editing strategy, and connecting with peers that have similar areas of focus
Timing/Cost
January – June 2023
$2,500 per community to offset program management costs.
We want every community to have access to this program, therefore, grants are available as-needed.
The Mountain Towns 2030 Solutions Project Is Generously Supported By:

---
Interested in participating in the 2023 Session? Let Us Know.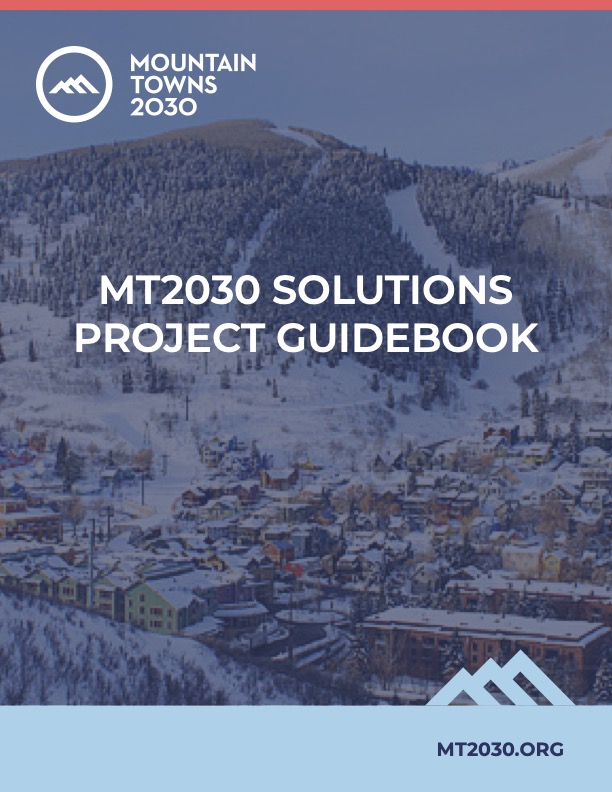 Download The 2021 MT2030 Solutions Project Guidebook

The 2021 MT2030 Solutions Project Guidebook is a compilation of the most innovative and effective solutions currently being implemented by the 2021 participating communities. Download it below.
2021 MT2030 Solutions Project Participants