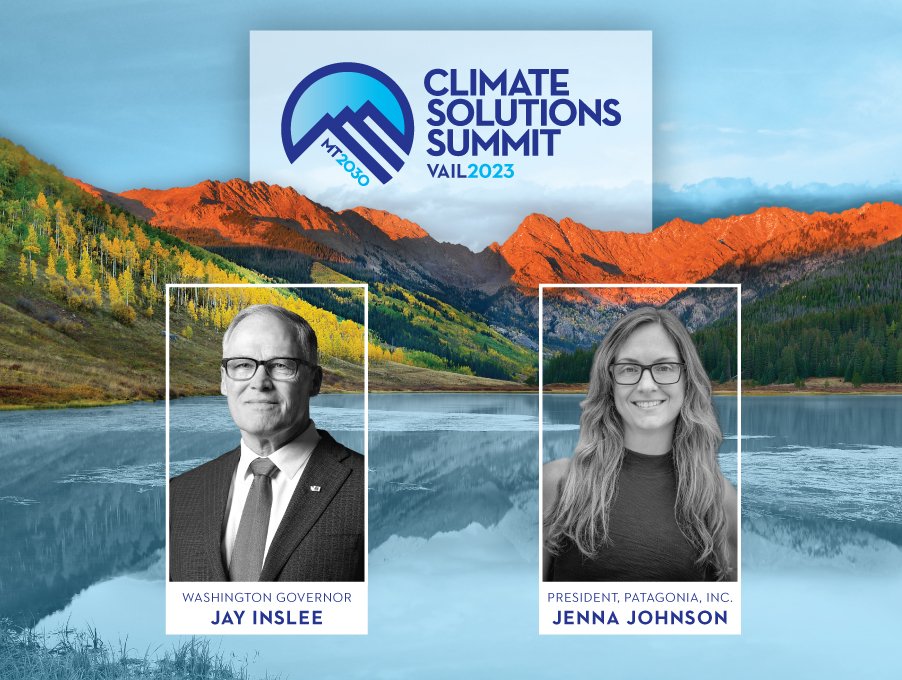 Park City, UT (September 18, 2023) – Mountain Towns 2030, a nonprofit accelerator for mountain and outdoor communities to address climate change, has released the agenda for the 2023 MT2030 Climate Solutions Summit, in Vail, CO on October 18-19, 2023.
The Mountain Towns 2030 Climate Solutions Summit is the annual gathering of 400+ stakeholders from over 55 mountain communities across the US and worldwide: local government elected officials, staff and sustainability teams, ski resorts, business, and nonprofit leaders, all committed to accelerating a movement to zero carbon emissions.
Taking place at The Hythe Vail, the Summit will bring communities together in a unique, collaborative environment that empowers everyone to deploy the most challenging climate solutions quicker and accelerate a collective movement to zero carbon emissions.
The Summit features inspirational keynotes and conversations with some of our nation's foremost climate, government, business, and community leaders, combined with hands-on workshops to give communities valuable tools and critical insights delivered by colleagues from peer communities.
Washington Governor Jay Inslee Will Headline The Summit's Closing Evening Event
With Patagonia, Inc. President Jenna Johnson
The Summit will be emceed by Climate Town TV's Rollie Williams, including speakers such as former Colorado Governor Bill Ritter, former Obama Administration advisor Molly Kawahata, Sun Valley Institute's Aimée Christensen, EPA Regional Administrator KC Becker, panel conversations with the four major ski resort operators (Alterra Mountain Co., Vail Resorts, POWDR, and Boyne Resorts), Climate Mayors, Protect Our Winters and many more.
30+ peer-led workshops, designed to give attendees relevant insights and actionable tools will dig into topics that include: advocacy, climate action planning, clean energy, utility partnerships, climate equity, IRA funding opportunities, biomass, and much more.

The Summit will conclude with a closing address from Washington Governor Jay Inslee who has become known as a forward-thinking leader, especially on issues of clean energy and climate change. He co-wrote a book, "Apollo's Fire: Igniting America's Clean-Energy Economy," about fighting climate change through clean energy innovation and job-creation. As governor, he has helped put Washington state at the forefront of climate action and is helping lead numerous subnational partnerships. Since 2013, the state has passed nation-leading policies to transition to 100% clean electricity, cap carbon pollution, electrify transportation, and more.
Patagonia's bold leadership in fighting climate change is without peer. "At Patagonia, we are committed to ditching growth for growth's sake and using all the levers available to us to help restore and protect the Earth", notes Jenna Johnson. "The climate and ecological crises require every sector of society contributing solutions to the systemic issues that got us into this mess. In addition to cutting emissions, protecting nature and supporting communities, one of the most important things we are doing at Patagonia to address the environmental crisis is reshaping consumption habits. This starts with high-quality products, and I look forward to sharing more at this year's summit."
"We are truly excited about the upcoming Summit in Vail," said Luke Cartin, MT2030's co-founder. "The speakers that we've assembled and the content we're delivering, all focused on climate leadership and systemic actions, will help every mountain community leader better understand the actions they need to take to solve this global issue. This will be the most impactful event we've ever produced for our communities."
For more information and to register for the upcoming MT2030 Climate Solutions Summit, please visit www.mt2030.org/summit